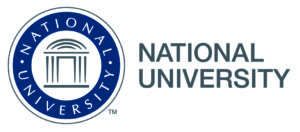 National University Accounting and Finance Degree Programs
National University appears in our ranking of The Top 15 Best Affordable Online Master's in Accounting Degree Programs.
The Certificate in Accountancy at National University prepares graduates for entry-level positions in the accounting field. It is designed for those who are considering a career in accounting that does not require them to sit for the Certified Public Accounting examination. If a student decides they wish to pursue the CPA examination, credits from the certificate can be applied to a baccalaureate or master's degree. Courses last for four weeks and students complete one course at a time, allowing them to finish their degree faster. The program is available both online and on-campus.
National University offers a Certificate in Finance that helps students develop an understanding of business while also helping them acquire analytical skills. The program is designed for those who are seeking entry-level positions in the field. Graduates are prepared for responsibilities in such organizations as banks, insurance companies, securities firms, and not-for-profit organizations. Graduates develop skills in the market, accounting and economic data that are used in all types of businesses.
The Bachelor of Science in Accountancy prepares students for positions in a wide range of accounting-related careers. Those in the program are prepared to use current technology used to present and analyze accounting data as well as how to demonstrate mastery of accounting knowledge. They also develop an understanding of the ethics of accounting as well as the best way to community information related to the financial health of a business. Students also gain an understanding of International Financial Reporting Standards. They are also able to research issues related to the critical assessment of accounting information.
The Bachelor of Science in Financialf Management provides graduates with practical and training financial decision-making. The program provides hands-on understanding of data analysis as well as how to advise management on methods that will manage profits. The role of a financial manager is to protect the financial health of the company. The program provides information on financial reports, direct investments, and strategies for long-term financial goals.
The Master of Business program at National University provides students with the knowledge necessary to successfully manage the accounting of a wide range of industries. Information is provided in many business disciplines such as accounting, finance, data analysis, management and more. The program is based in both the domestic and international market to prepare students for a growing global accounting world. It is possible to specialize the program through concentrations that include finance. The program provides an understanding of strategies policies designed to address the financial health of many organizations. A finance research project is required as well as 63 quarter units in order to complete the degree.
The Master of Accountancy (MAcc) is available on campus and online.  Accredited by the International Assembly for Collegiate Business Education, National University's accounting master's program offers students a comprehensive understanding of accounting theory and practices, as well as their proper application. Students completing this program learn to calculate, analyze and report data according to accepted accounting practices using effective communication skills. They are taught to use current methods and technologies to assess the performance of an organization and to prepare reports to assist in internal and external decision making. Students also study the proper application of tax rules and auditing procedures. In addition, they receive training in the legal and ethical concepts that pertain to accounting.
About National University
National University, founded in 1971, is located in California, one of the largest non-profit universities in the state. The school regularly ranks in the top ten schools for granting master's degrees to women and offers more graduate degrees to minorities than any other California college or university.
Students may choose from over 100 degree programs with over 70 degrees available in a completely online format. They may also choose traditional on-campus programs at 13 campuses throughout San Diego County as well as one in Henderson, Utah. The school is part of the National University System which was established in 2001. Programs are challenging and include a balance of practical knowledge as well as theoretical understanding. All classes are centered around the student and geared for success. The University also offers support programs to guide them after graduation and throughout their University career.
National University Accreditation Details
National University is accredited by the Accrediting Commission for Senior Colleges and Universities of the Western Association of Schools and Colleges. The University agrees to periodic evaluations to confirm that they continue to meet standards issued by the Commission that demonstrate graduates will be prepared for their field of study. In addition to regional accreditation, programs at the university are accredited by industry-specific agencies that include:
American Association of Colleges for Teacher Education
American Association of Intensive English Programs
American Bar Association
Association of Commercial Diving Educators
California Association of Alcoholism and Drug Abuse Counselors
California Board of Registered Nursing
Center of Academic Excellence in Information Assurance Education
Commission on Collegiate Nursing Education
Commission on Teacher Credentialing
Council of Colleges of Arts and Sciences
Council on Accreditation for Nurse Anesthesia Educational Programs
Council on Education in Public Health
Joint Review Committee on Education in Radiologic Technology
National Council on the Accreditation of Teacher Education
Nevada State Board of Education
Society of Human Resource Management
National University Application Requirements
In order to apply to National University, all students must take entry-level examinations in math and English Any applicant with less than 60 semester hours of college study after high school graduation must submit an official high school diploma and complete an application for admission. Some programs may have additional admission requirements, so applicants should speak to an admissions counselor before applying. Applicants with more than 60 semester credits must also submit an application as well as official transcripts from all colleges and universities attended. They must also have a cumulative GPA of 2.0 or higher.
Applicants to graduate programs must hold a bachelor's degree or higher from an accredited college or university as well as a 2.5 GPA or higher. Lower GPA's may be admitted with the submission of official GMAT, GRE or MAT scores. Official transcripts from all colleges and universities must be provided.
National University Tuition and Financial Aid
Lower level undergraduate tuition is $362 per quarter hour and $416 per credit hour for upper-level classes. Tuition for graduate courses is $416 per credit hour. Financial aid is available and students must complete the Free Application for Federal Student Aid (FAFSA) in order to qualify. The FAFSA has to be renewed each year.
Financial aid may be in the form of grants, which may range from $358 to $5,730 if a student can demonstrate financial need. Students may also qualify for Cal Grants if they are California residents and may range from $100 to $12,297. Scholarships are also available as part of the student loan package as are work-study programs where employment is provided in exchange for tuition. Students may also qualify for loans but it is important to remember they must be repaid upon graduation.
National University provides students both online and on-campus formats that allow non-traditional and traditional students to achieve their higher education goals.