Share this infographic on your site!
Add It Up: The Cost of Renewable Energy
Setting aside concerns for the environment, investing in renewable energy sources is a popular decision for a lot of businesses and governments around the world. What's the outlook for renewable energy and which methods have the lowest costs?
Turning to Renewables
69%
Projected growth in renewable electricity generation in the U.S. between 2012 and 2040 (1)
25%
Average annual growth rate over past five years in global wind power capacity (2)
50%
Average annual growth rate over past five years in solar photovoltaic capacity (2)
6 in 10
Fortune 100 and Global 100 companies that have set greenhouse gas-reduction goals (3)
$260 billion
Global renewable energy investments in 2011 (3)
Breaking Down the Options
Here's a look at some of the most popular renewable energy sources and their pros and cons. (4)
Solar
Pros
Most abundant energy source available
Long lifespan of systems
Cons
Dependent on sunshine
Expensive initial cost
Space needed for photovoltaic cells
Wind
Pros
Affordable
Lack of disruption on ecosystem
Cons
Not possible for all areas
Expensive initial and ongoing cost
Lots of land needed
Hydro
Pros
Reliable
Adjustable output based on demand
Cons
Can have negative impact on area ecosystem
Flood potential
Geothermal
Pros
Low environmental impact
Costs fall rapidly after initial investment
Cons
Few wells currently in use
Potential for depletion of wells in future
So What's the Bottom Line?
Now that we've seen what each method is all about and what the industry overall is doing, how do we know which method is the best from a cost standpoint? In this analysis, we'll look at expected levelized cost of electricity, operations and maintenance and typical lifespan for each of the four methods.
Levelized cost (1)
Includes:
Financing
Lead time for building
Inflation
Resource supply
Learning rate
Estimated levelized cost of electricity, $/MWh, for new plants coming online in 2019
Solar: $130
Wind: $80.30
Hydro: $84.50
Geothermal: $47.90
Advantage: Geothermal
Maintenance cost (1)
Includes:
Day-to-day operations
Ongoing maintenance
Estimated operations and maintenance cost, $/MWh, for new plants coming online in 2019
Solar: $11.40
Wind: $13
Hydro: $4.10
Geothermal: $12.20
Advantage: Hydro
Lifespan
Average expected length of usability for plant and/or equipment (5, 6)
Solar: 32 years
Wind: 20 years
Hydro: 37 years
Geothermal: 20 years*
Advantage: Hydro
* Internal components
The winner
Hydroelectric power may represent the most cost-effective alternative to burning fossil fuels. With long lifespans and low maintenance costs, hydro is the fuel of choice in many places in the world.
99% of Norway's electricity comes from hydro. (7)
New Zealand gets 75% of its power from hydro. (7)
Only 9% of the power in the U.S. is generated by hydro. (7)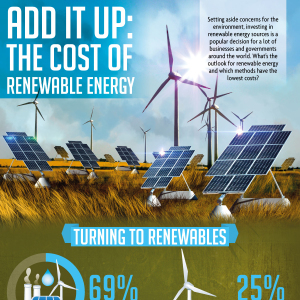 Sources:
1. http://www.eia.gov
2. http://www.iea.org
3. http://www.worldwildlife.org
4. http://www.energy4me.org
5. http://www.renewablesfirst.co.uk
6. http://www.nrel.gov
7. http://www.statisticbrain.com