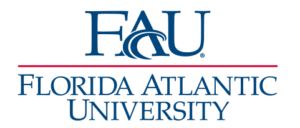 Finance & Accounting at Florida Atlantic University
Florida Atlantic University appears in our ranking of The Top 15 Best Affordable Online Master's in Accounting Degree Programs.
Florida Atlantic University offers several ways to study accounting and finance that include two bachelor's degrees, a handful of graduate degrees, and some executive education degree options. Accounting and finance programs are offered within the School of Business, and students who aren't sure whether they want to enroll in a complete degree program can also take open enrollment courses. Students who enroll in the undergraduate accounting program can choose from the traditional major option or the online Bachelor of Business Administration in accounting program. Students will take a combination of business and accounting classes to complete their degree, which requires 120 credits for graduation.
Classes required in the accounting program include Cost Accounting, Federal Taxation I, Accounting Information Systems, and Auditing & Assurance Services I. Business courses required by the program include Macroeconomics, Microeconomics, Methods of Calculus, and Information Systems Fundamentals. Students in the undergraduate finance program will take similar classes for their business foundation, as well as courses for their focus on finance. Some of the finance courses required include Advanced Managerial Finance, Financial Institutions, Investment Analysis, and International Finance. Students must receive a grade of "C" or above in their major courses for the course to count toward the required 120 credit total.
Graduate students interested in studying accounting or finance can choose from the Master of Accountancy or the Master of Tax for their accounting-related degrees. Students who want to study finance at the graduate level may choose the Finance concentration within the Master of Business Administration program or the Master of Science in Finance. One of the beneficial features of the graduate program in finance is the option for concurrent enrollment in the Financial Analyst Program, which awards the graduate with a Financial Analyst Certificate alongside the Master Science in Finance degree.
Graduate students may also pursue doctoral degrees in Accounting or Finance. Some programs in finance and accounting are offered online or with some online classes, so prospective students of Florida Atlantic University have many ways to study accounting or finance either on campus or via the internet. In addition to accredited status with the AACSB, accounting and finance programs also possess various certifications like the Bloomberg Certification for the Master of Science in Finance program. Certificate options that can augment the student's degree plan include those in International Business, Business Analytics, and Risk Management & Insurance.
About Florida Atlantic University
Established in 1961, Florida Atlantic University is a public school in Boca Raton, Florida. The school is part of the state university system in Florida and also has several satellite campuses in cities like Jupiter, Dania Beach, and Fort Pierce. The university was the first public university established in southeast Florida and only offered upper-division classes at the time of its inception. More than 30,000 students attend the university, which has an endowment of 275 million dollars. Students represented at the university come from all 50 states and more than 130 countries. In recent years, the university has increased its standards for admission, as well as spent money on building new facilities, fostering additional research activity, and expanding its on-campus housing options. The school's official mascot is Owlsey the Owl, and students on sports teams play as the Owls.
Florida Atlantic University Accreditation Details
Regional accreditation for Florida Atlantic University comes from the Southern Association of Colleges and Schools Commission on Colleges, which allows the university to award bachelors, masters, and doctoral degrees. The university was most recently reaccredited in 2013 and will undertake another reaccreditation in 2023. Many colleges and programs within the university hold programmatic or specialized accreditations. All three levels of nursing programs at Florida Atlantic University are accredited by the Commission on Collegiate Nursing Education. The College of Business and its programs are accredited by The Association to Advance Collegiate Schools of Business (AACSB). The university shares that less than five percent of business schools and related programs around the world are accredited by the AACSB.
Florida Atlantic University Application Requirements
Florida Atlantic University accepts just under half of the prospective students who submit applications. Students who want to apply to the university may do so in one of three ways that include two online options and one option by regular mail. In addition to the official application, students must submit a Self-Reported Student Academic Record to share grades earned in high school, as well as send SAT or ACT scores. Students should also complete one of the essay questions required by the university, as well as upload a resume and complete the Residency Declaration for Tuition Purposes form. Students who want to enroll in music, theater, dance, or film must contact their respective academic departments directly for information on additional admission requirements.
Tuition and Financial Aid
Tuition at Florida Atlantic University for undergraduate students is $215.55 per credit hour for in-state students, and out-of-state students pay $721.10 per credit hour. The total estimated tuition and fees for undergraduate students from Florida is $5,656, and the total estimated tuition and fees for out-of-state students is $18,786. For graduate students, the in-state rate is $479.32 per credit hour, and the out-of-state rate is $1,110.72 per credit hour. Students who want to attend law school will pay $688.11 if they're from Florida or $1,355.18 if they're from outside Florida. Students enrolled in Florida Atlantic University's medical school will pay $479.32 per credit if they're from Florida or $631.40 per credit hour if they're from another state. Students who decide to live on campus will pay for their room and board costs, which will vary and depend on the type of room and number of meals requested.
To receive financial aid at Florida Atlantic University, students must complete their FAFSA form and submit it on time to receive a financial aid award in time to start classes. When a student qualifies for financial aid, the university may offer a combination of grants, scholarships, loans, Work-Study awards, part-time jobs in the community, and Florida Bright Futures scholarship opportunities. Some of the scholarships a student may receive when they apply to FAU include the Community Foundation Scholarship, the Alumni Legacy Scholarship, the Coca Cola Scholarship, or the Diversity Enhancement Scholarship. Students who wish to enroll in any of the accounting and finance programs within the School of Business at Florida Atlantic University may qualify for scholarships and grants related to the study of business, as well as traditional student loans.