Five Outstanding Internships for Accountants
Auditing
Taxation
Bookkeeping
Forensic Accounting
Administrative Roles
Courtesy of the upward-trending job outlook, finding an accounting internship has almost never been easier. With 42,000 firms who participate in the booming market, accountants can effortlessly secure seasonal, temporary, part-time and full-time positions across all experience levels. When it comes to internships, however, which often mark the beginning of someone's professional career, conducting adequate research is imperative. So, what would be some good starting points for aspiring accountants?
Related resource: Top 15 Best Affordable Online Master's in Accounting
Auditing
As its largest practice, auditing is the most popular career choice in accounting. Although people tend to refer to it as "attestation" or "assurance," each of these terms represents a different field of work. Auditing is mostly concerned with verifying public entities' financial statements. Even though the early evidence of audit-like practices dates back to the 18th century, the industry did not step into the spotlight until 2002. Once the Sarbanes-Oxley Act came around, which ended the long-lasting era of fraudulent financial reporting, the demand for auditors spiked. Taking an internship within this field will help candidates learn how to interact with clients, conduct low- and mid-level verifications, and oversee auditing standards.
Taxation
Since taxation is the only area of accounting that can parallel the popularity and lucrativeness of the audit practice, these two remain the fiercest opponents within the industry. Unlike auditors, whose main responsibility is to protect investors by verifying corporate financial statements, taxation experts protect individuals and companies from tax overpayments. Additionally, due to the complexity of the U.S. financial system, the list of tax subsectors is nearly endless. For example, interns can work on projects that include federal, state, property, sales, transaction, self-employment, medicare, social security, investment, estate, local or even gift taxes. Most accounting firms focus on providing newly hired employees with a versatile experience, though, and interns should use this as a chance to learn as many types of tax systems as they can.
Bookkeeping
According to Forbes, the list of reasons why smaller companies and freelancers should hire bookkeepers is quite lengthy. Since large organizations seldom rely on such clerks, interns interested in this area will generally focus on smaller, family-owned businesses. Anyone who wants to sidestep the corporate sphere, which is quite common, should look into bookkeeping internships. While there will be very little exposure to enormous projects, bookkeeping can help them learn how to navigate numerous accounting systems, record complex transactions and create short- or long-term budgets. Additionally, the turnover rate for bookkeeping positions is considerably lower than the industry's average.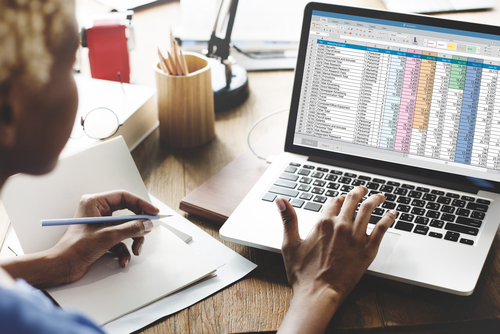 Forensic Accounting
Albeit a small market, forensic accounting remains one of the most desirable destinations for thousands of practicians. The job focuses on investigating individuals and companies that display suspicious spending habits. Expectedly, most employment opportunities, including internships, revolve around governmental entities. For instance, the Federal Bureau of Investigation, or the FBI, is almost always seeking forensic investigators with a background in accounting. Although interns rarely work on high-profile projects, they can still acquire many invaluable skills, especially when it comes to writing reports or valuing assets.
Administrative Roles
The remaining choices, which pertain to administrative roles, incorporate a wide variety of positions where accounting knowledge is helpful, not mandatory. Examples include payroll and financial experts, tax clerks, budget consultants and similar. Unlike the aforementioned jobs, however, these positions do not focus on a single sphere of accounting. While auditors and taxation professionals rarely step outside of their areas of expertise, administrative workers must also know how to leverage human resources, management, marketing and more. Interns who pursue such positions should embrace constant learning and excitingly unpredictable careers, and they should integrate their accounting knowledge with every skill that they gradually master.
Students or recently graduated professionals who want to gain invaluable experience and see how accounting operates should prioritize internships. Doing so will let them peek into their forthcoming career by working on real-world projects and expanding their book of business. Also, given the number of great accounting internships, choosing the most appropriate alternative might actually be harder than securing job offers.