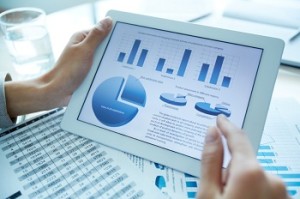 An MBA in Accounting is a professional graduate degree that covers a wide range of different subject areas with an emphasis on accounting coursework. If you would like to pursue a mid or management level career in the field of accounting, or you own your own business and would like to handle your own financial affairs, completing an advanced program will help you attain the knowledge that you need. Before you decide to apply for an MBA program with a concentration in Accounting, you should take the time to review what you will cover and what you can do as an alumni.
What Type of Content Will You Cover as a an MBA in Accounting Student?
The purpose of an MBA program is to familiarize students with a wide variety of skills that are pertinent in business. You do not cover just one subject area, but instead many throughout the course of the program. While you will still cover everything from Human Resources and Marketing to Business Law and Business Communications, the emphasis of your program will be placed on accounting courses rather than just general business. Some of the accounting courses that you will be required to complete if you specialize your MBA degree will include:
Accounting Principles
Accounting Research
Accounting Information Systems
Accounting Auditing
Financial Accounting
Audit Analytics
Concepts of Auditing
Corporate Taxation
Income Taxation
Managerial Accounting
What Can You Do With your MBA Upon Graduation?
There are several different reasons why you might want to earn an MBA rather than earning a master's degree. If you are trying to decide which degree is appropriate, you first need to know what type of accounting job you would like to pursue. If you want to become an CPA, an accounting manager, a clerk in accounts receivables, a Certified Internal Auditor, a CFO or tax accountant, the MBA degree may prepare you with the high-level technical knowledge and also the leadership skills you will need. If you would like to work in analysis, accounting information systems or research, a terminal master's degree may be more appropriate as the entire content will be field focused.
Admissions Requirements for MBA Programs
You should also take the time to review admissions requirements while you are still early in your undergraduate program so that you can take the right electives to qualify for graduate admissions. Unlike a master's program, where the major that you chose is considered, an MBA program puts more of a focus on work experience when making an admissions decision, according to GMAT. There are schools that will admit students with no work experience, but a majority want to see that you have worked in the field for at least two to three years. There are typically no formal prerequisite classes required for MBA programs, but you will need to possess a bachelor's degree.
Related Resource: Chartered Financial Analyst
Many states require their CPA applicants to have more than just a Bachelor's in Accounting. If you would like to become a well-rounded business professional and a CPA, taking MBA courses in accounting will qualify you to sit for the CPA exams. Be sure that you take the time to review degree programs, compare your options, and then you can apply to the right program so that you can earn your MBA in Accounting.