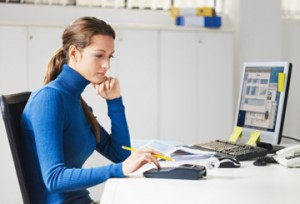 Accounting is a branch of the business field that deals with gathering, organizing, and managing financial information for both individuals and organizations. It is an essential field, as it plays a part in nearly all industries. Those interested in becoming an accountant often inquire about the job description and details of the profession.
Accountant Job Duties
Accountants obtain and examine information to assist individuals and companies with their financial records. They must make sure records are complete and accurate, and abide by the applicable rules and regulations. They assist with paying taxes, budgeting, reducing costs, and generating revenue. They also evaluate financial operations to improve efficiency in organizations. Many accountants are responsible for explaining their results through both oral and written reports.
Education and Certification Requirements for Accountants
In general, most employers require accountants to complete at least a bachelor's degree in accounting or closely related major. An associate's degree with significant work experience may suffice for some positions. Some employers seek individuals with a master's degree in an accounting field. If an accountant is filing reports with the Securities and Exchange Commission, he or she must obtain the Certified Public Accountant (CPA) designation. Additionally, many other accountants become CPAs to increase job opportunities. To become a CPA, individuals must pass a national examination and fulfill other requirements of their state of residence. Majority of states require at least 150 hours of accounting coursework for eligibility to take the CPA examination. Continuing education is usually required to maintain the CPA license.
Required Skills for Accountants
Accountants must have the ability to pay close attention to detail as they are constantly dealing with large amounts of financial figures. They must be able to investigate, compare, and explain financial figures and have strong organizational skills to maintain various financial documents for numerous clients. They must have a strong work ethic and the ability to work under stressful conditions. Analytical problem solving skills are necessary due to the common occurrence of financial mishaps. Since most accountants work with the public, they must have strong communication and interpersonal skills to listen to facts from clients and discuss their work and findings.
Salary for Accountants
According to the U.S. Bureau of Labor Statistics, the mean yearly salary for accountants and auditors was $71,040 or $34.15 per hour. Actual annual salaries will differ significantly by state and city, education, employer, benefits, and other factors.
Job Outlook for Accountants
Over the next decade, the job growth for accountants is projected to rise 16 percent, which is considered an average increase for all jobs. An increased concentration on accounting due to financial crisis will drive job growth. Harsher laws and regulations will also play a part in the demand for accounting services. Job opportunities should be great for accountants, especially for those with CPA or other certifications. Additionally, accountants with master's degrees may have increased job prospects.
Individuals who have a genuine interest in numbers and maintaining financial data will likely find working as an accountant a rewarding career. Accountants commonly have the opportunity to advance in their fields, leading to more lucrative and fulfilling careers.