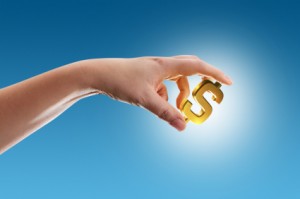 There are many different factors that go into the kind of salary that you can expect as an accountant. Your state of residence is definitely going to play an important role, and you also have to think about what kind of job you are going to get under the broad field of accounting. The reality is that some accounting jobs will earn you less than $30,000 per year, while others will lead to six figure salaries. Let's take a closer look at the most typical salaries for accountants these days.
What is the Median Pay?
While some people think that it makes sense to look at the mean salary for all accountants to figure out how much they will get paid when they are done with school, the reality is that it makes sense to look at the median pay rate instead. According to the Bureau of Labor Statistics, the median pay for someone working as an accountant is just under $30 per hour. This means that you will be able to make over $60,000 per year. It should be noted that you will not start out at this pay rate if you are fresh out of school with no experience.
Entry Level Pay
When it comes to entry level accounting jobs, you can expect to make a bit more than $35,000 in your first year. This may seem like a quick drop off from the median pay rate, but the fact is that you can climb up the ranks rather quickly when you are working with the right company. Roughly half of the entry level accountants in the United States are making between $40,000 and $50,000 per year, so that gives you a goal to shoot for over the long term.
Job Prospects
There are over 1,200,000 people working in the field of accounting in the United States right now, and there is expected to be an almost 200,000 person increase in accountants over the next 10 years. Accounting is a relatively safe and stable occupation because businesses and individuals are always going to need people to prepare their taxes and track their finances.
Climbing the Ladder
Once you have been an accountant at a certain firm for a long period of time, you will eventually want to look to become an accountant supervisor or general account manager. These are the jobs where you will be overseeing the actual accounts rather than just doing all of the busy work. These jobs can pay anywhere from $70,000 per year to more than $120,000. The kind of pay that you can expect over the long term will depend on which company you are working with and what kinds of accounts are coming in on a regular basis. You would obviously have a larger salary if you are working on preparing a millionaire's taxes rather than the mail man's.
At the end of the day, the most important factors into the kind of pay you can expect once you are a licensed accountant are how hard you are willing to work and which company you are working for. Make sure that you are applying for accounting jobs where you have a ladder that you can climb to get a better salary in the future.